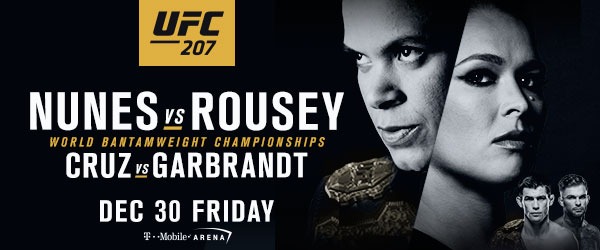 UFC 207 Early Prelims on UFC Fight Pass
Alex Oliveira vs Tim Means
Weight Class: Welterweight
Alex Oliveira: MMA 15-3-1
Tim Means: MMA 26-7-1
Betting Odds: Oliveira -120, Means -110
Results: no-contest via accidental knee in Round 1 at 3:33
---
UFC 207 Prelims on FS1
Johny Hendricks vs Neil Magny
Weight Class: Welterweight
Johny Hendricks: MMA 17-5
Neil Magny: MMA 18-6
Betting Odds: Hendricks -115, Magny -115
Results: Neil Magny def. Johny Hendricks via unanimous decision
Antonio Carlos Junior vs Marvin Vettori
Weight Class: Middleweight
Antonio Carlos Junior: MMA 7-2
Marvin Vettori: MMA 11-2
Betting Odds: Carlos Junior -150, Vettori +120
Results: Antonio Carlos Junior def. Marvin Vettori via unanimous decision
Mike Pyle vs Alex Garcia
Weight Class: Welterweight
Mike Pyle: MMA 27-12-1
Alex Garcia: MMA 13-3
Betting Odds: Pyle +140, Garcia -170
Results: Alex Garcia def. Mike Pyle via knockout (punch) in Round 1 at 3:34
Brandon Thatch vs Niko Price
Weight Class: Welterweight
Brandon Thatch: MMA 11-4
Niko Price: MMA 8-0
Betting Odds: Thatch -190, Price +155
Results: Niko Price def. Brandon Thatch via submission (arm-triangle choke) in Round 1 at 4:30
---
UFC 207 Main Card on Pay-Per-View
TJ Dillashaw vs John Lineker
Weight Class: Bantamweight
TJ Dillashaw: MMA 14-3
John Lineker: MMA 29-7
Betting Odds: Dillashaw -240, Lineker +190
Results: T.J. Dillashaw def. John Lineker via unanimous decision
Dong Hyun Kim vs Tarec Saffiedine
Weight Class: Bantamweight
Dong Hyun Kim: MMA 21-3-1
Tarec Saffiedine: MMA 16-5
Betting Odds: Kim -145, Saffiedine +115
Results: Dong Hyun Kim def. Tarec Saffiedine via split decision
Louis Smolka vs Ray Borg
Weight Class: Flyweights
Louis Smolka: MMA 11-2
Ray Borg: MMA 9-2
Betting Odds: Smolka +105, Borg -135
Results: Ray Borg def. Louis Smolka via unanimous decision
UFC 207 Title Fights
Amanda Nunes vs Ronda Rousey (Main Event)
Weight Class: Bantamweight
Amanda Nunes: MMA 13-4
Ronda Rousey: MMA 12-1
Betting Odds: Nunes +110, Rousey -140
Results: Amanda Nunes def. Ronda Rousey via TKO (punches) in Round 1 at 0:48 to retain women's bantamweight title.
Dominick Cruz vs Cody Garbrandt
Weight Class: Bantamweight
Dominick Cruz: MMA 22-1
Cody Garbrandt: MMA 10-0
Betting Odds: Cruz -225, Garbrandt +125
Results: Cody Garbrandt def. Dominick Cruz via unanimous decision to win bantamweight title.
---
Top 3 Biggest Value Bets On UFC 207
Niko Price at +155 odds.
Cody Garbrandt at +125 odds.
Amanda Nunes at +110 odds.