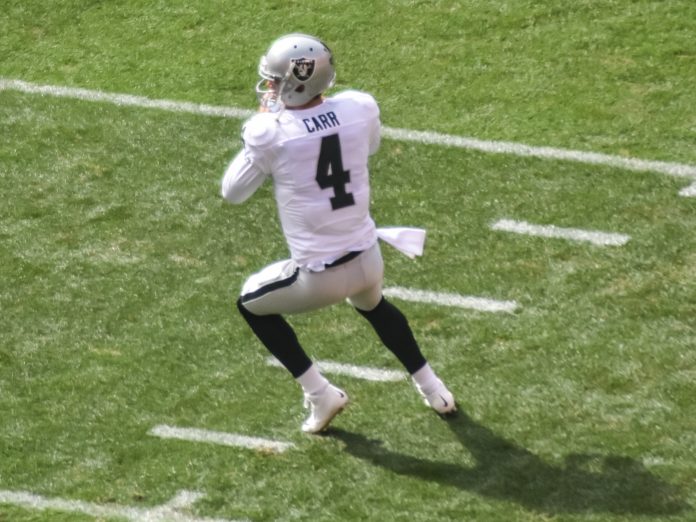 Oakland Raiders vs Kansas City Chiefs Game Information
Stadium: Arrowhead Stadium, Kansas City, Missouri
Date: Thursday, December 8th, 2016 8:25pm EST
TV: NBC, NFLN
Radio: Sirius XM Radio
Raiders vs Chiefs Betting Odds
Raiders: spread +3 (+105), moneyline +150
Chiefs: spread -3 (-125), moneyline -170
Over/Under: 46 (-110)
Odds provided by Bovada.lv
NFL Team Stats
Oakland Raiders (Record: 10-2)
Raiders' offense been carrying the team to victory week after week while the defense been average. The offense average close to 400 yards per game (277 passing yards, 114 rushing yards) and average 28 points per game. The defense allows almost the same amount of yards the offense average per game. 264 passing yards, 124 rushing yards and allows 24 points per game.
Oakland Raiders Against The Spread 2016
ATS: 8-4
ATS Home: 3-4
ATS Away: 5-0
Kansas City Chiefs (Record: 9-3)
The Chiefs is what I like to call well rounded. They not great at offense or defense but they're good at both. The Chiefs' offense average a little over 300 yards per game (234 passing yards, 98 rushing yards) and averages 23 points per game. The defense on average allows 384 yards (263 passing yards, 121 rushing yards) while giving up only 20 points per game.
Kansas City Chiefs Against The Spread 2016
ATS: 6-6
ATS Home: 1-4
ATS Away: 5-2
Oakland at Kansas City Prediction
In week 6, the Chiefs beat Raiders 26-10. However, winter is coming, no winter is here and both of these teams are going to have a hard time playing in the cold weather. This does give the defense for both teams an advantage over the offense but I still think that this will be a shootout game. OAK vs KC in the last 10 matches Kansas City is ahead 6-4. However, against the spread in the last 10 meetings between them are 5-5, 4-5-1 for the over/under.
Chiefs average 23 points a game while the Raiders allow 24 points per game. Given these stats I do believe the Kansas City will 20+ points in this game without a problem if the cold doesn't affect their play. Oakland on the other hand, I don't expect them to push past their 28 point average. The Chiefs defense only allow 20 points a game on average. So I do believe the game will be close.
I don't expect this game to be a complete defensive football game where the score is something like 9-6 but I also don't expect it to be a complete scoring fest with both teams having over 30 points. I predict the score will be something like 24-21 but given these two teams I can't really say which one will win but here's my NFL betting tip.
My NFL Bet: $5 on +3 Oakland Raiders at +105 odds