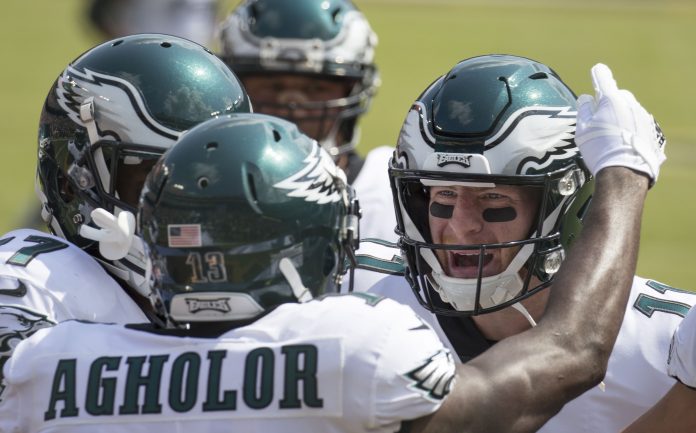 NFL week 1 results 2018 was as expected. The Atlanta Falcons vs Philadelphia Eagles prediction was right. I picked the Eagles against the spread and they won 18-12. So my NFL betting tips are starting off right this season. I want to take a look at the results of week 1 and see how each team is starting their season before I look at the games for week 2.
NFL Week 1 Results
Falcons 12-18 Eagles
Bills 3-47 Ravens
Jaguars 20-15 Giants
Buccaneers 48-40 Saints
Texans 20-27 Patriots
49ers 16-24 Vikings
Titans 20-27 Dolphins
Bengals 34-23 Colts
Steelers 21–21 Browns
Chiefs 38-28 Chargers
Seahawks 24-27 Broncos
Cowboys 8-16 Panthers
Redskins 24-6 Cardinals
Bears 23-24 Packers
Jets 48-17 Lions
Rams 33-13 Raiders
Good to see the home team won. Dolphins is the home team if you're new here. My favorite team Seahawks lost by 3 points. A little disappointed but its just the start of the season so we can only get better from here. Buccaneers and Saints had a crazy high scoring game. I didn't expect that to happen at all. Also, we got our first tie game of the season with the Steelers and Browns. Then there was the 2 big blowouts with Ravens vs Bills and Jets vs Lions. Are the Ravens and Jets teams to watch this season or their opponents just wasn't up to par? Only time will tell.
NFL Week 2 Predictions?
I speak on how I would write my predictions this season but wanted to go over it again. This season I will be doing things a little different. I will only be doing 1 game per week unless I see 2 or more games I really have a strong feeling about or the numbers just look to good not to go for it. So I won't be doing an overall week prediction for every game. It just gets to crazy and mess up my win rate for the season.
Season record: 1-0