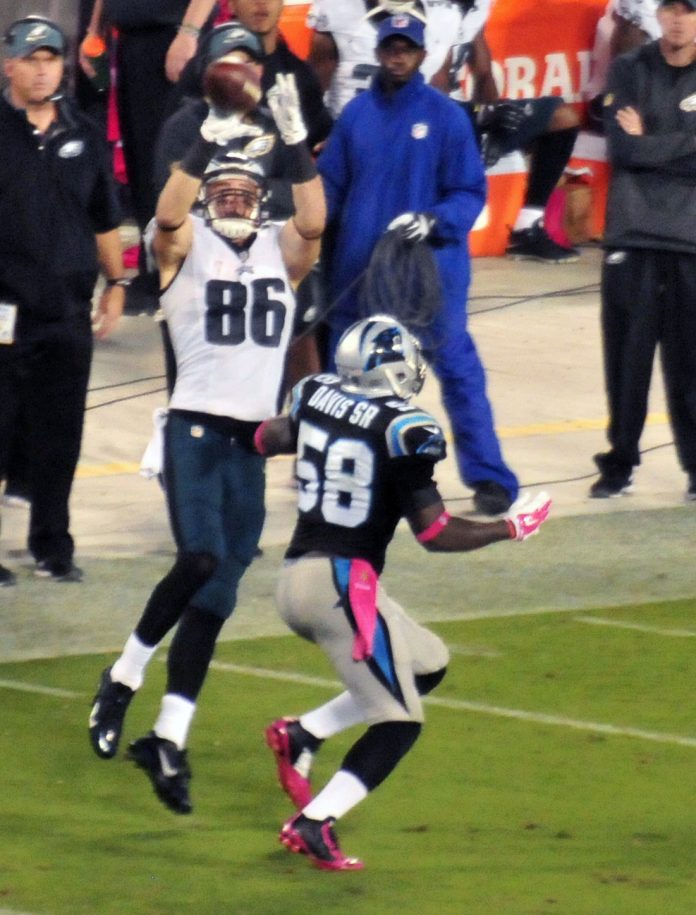 NFL Week 15 Sunday Football on December 18th, 2016. Today's NFL betting tips will be base only by the numbers and not my personal opinion, follow these picks at your own risk. I wanted to try something different from just doing the eye test on each game.
All of the information below will provide the average stats for each team including points per game, the odds for moneyline (if there is one), spread, and over/under, and 3 picks per game base on the average numbers per game.
All of my bets are against the spread and on the over/under. I didn't place any bets on the moneyline since it wasn't available on every game. All odds provided by Bovada, for updated odds click here.
Philadelphia Eagles vs Baltimore Ravens Prediction
NFL Team Average Stats
Philadelphia Eagles
(Record: 5-8)
Points Per Game: 22.3
Total Yards Per Game: 341.4
Passing Yards Per Game: 232.8
Rushing Yards Per Game: 108.6
Eagles Away: 1-6, Ravens Home: 5-2
Baltimore Ravens
(Record: 7-6)
Points Per Game: 21.5
Total Yards Per Game: 347.7
Passing Yards Per Game: 261.7
Rushing Yards Per Game: 86
Philadelphia Eagles vs Baltimore Ravens Odds
Date: Sunday, December 18th, 2016
Time: 1pm EST
Venue: M&T Bank Stadium, Baltimore, Maryland
Official Twitter Hashtags: #PHIvsBAL
Moneyline Odds: Eagles +190, Ravens -230
Spread Odds: Eagles +5 (-110), Ravens -5 (-110)
Over/Under Odds: 41 (-110)
Pick by the numbers: Philadelphia Eagles ML, Eagles +4.5, Over 41
---
Cleveland Browns vs Buffalo Bills Prediction
NFL Team Average Stats
Cleveland Browns (Record: 0-13)
Points Per Game: 15.9
Total Yards Per Game: 309.2
Passing Yards Per Game: 213
Rushing Yards Per Game: 96.2
Browns Away: 0-6, Bills Home: 3-3
Buffalo Bills (Record: 6-7)
Points Per Game: 25
Total Yards Per Game: 338.2
Passing Yards Per Game: 183.5
Rushing Yards Per Game: 154.6
Cleveland Browns vs Buffalo Bills Odds
Date: Sunday, December 18th, 2016
Time: 1pm EST
Venue: Ralph Wilson Stadium, Orchard Park, New York
Official Twitter Hashtags: #CLEvsBUF
Moneyline Odds:
Spread Odds: Browns +10.5 (-110), Bills -10.5 (-110)
Over/Under Odds: 42 (o -115, u -105)
Pick by the numbers: Buffalo Bills ML, Browns +10.5, Under 42
---
Green Bay Packers vs Chicago Bears Prediction
NFL Team Average Stats
Green Bay Packers (Record: 7-6)
Points Per Game: 25.6
Total Yards Per Game: 357.9
Passing Yards Per Game: 259.3
Rushing Yards Per Game: 98.6
Packers Away: 2-4, Bears Home: 3-3
Chicago Bears (Record: 3-10)
Points Per Game: 17
Total Yards Per Game: 344.2
Passing Yards Per Game: 242.8
Rushing Yards Per Game: 101.3
Green Bay Packers vs Chicago Bears Odds
Date: Sunday, December 18th, 2016
Time: 1pm EST
Venue: Soldier Field, Chicago, Illinois
Official Twitter Hashtags: #GBvsCHI
Moneyline Odds: Packers -240, Bears +200
Spread Odds: Packers -5 (-115), Bears +5 (-105)
Over/Under Odds: 39.5 (o -115, u -105)
Pick by the numbers: Green Bay ML, Packers -5, Over 39.5
---
Pittsburgh Steelers vs Cincinnati Bengals Prediction
NFL Team Average Stats
Pittsburgh Steelers (Record: 8-5)
Points Per Game: 24.4
Total Yards Per Game: 374
Passing Yards Per Game: 261.2
Rushing Yards Per Game: 112.8
Rams Away: 3-4, Seahawks Home: 6-0
Cincinnati Bengals (Record: 5-7)
Points Per Game: 20.6
Total Yards Per Game: 371.1
Passing Yards Per Game: 256.5
Rushing Yards Per Game: 114.6
Pittsburgh Steelers vs Cincinnati Bengals Odds
Date: Sunday, December 18th, 2016
Time: 1pm EST
Venue: Paul Brown Stadium, Cincinnati, Ohio
Official Twitter Hashtags: #PITvsCIN
Moneyline Odds: Steelers -165, Bengals +145
Spread Odds: Steelers -3.5 (+105), Bengals +3.5 (-125)
Over/Under Odds: 45.5 (-110)
Pick by the numbers: Pittsburgh Steelers ML, Steelers -3.5, Under 45.5
---
Jacksonville Jaguars vs Houston Texans Prediction
NFL Team Average Stats
Jacksonville Jaguars (Record: 2-11)
Points Per Game: 18.5
Total Yards Per Game: 332.6
Passing Yards Per Game: 232.8
Rushing Yards Per Game: 99.8
Jaguars Away: 1-5, Texans Home: 5-1
Houston Texans (Record: 7-6)
Points Per Game: 17.6
Total Yards Per Game: 316.1
Passing Yards Per Game: 190
Rushing Yards Per Game: 126.1
Jacksonville Jaguars vs Houston Texans Odds
Date: Sunday, December 18th, 2016
Time: 1pm EST
Venue: NRG Stadium, Houston, Texas
Official Twitter Hashtags: #JAXvsHOU
Moneyline Odds: Jaguars +170 Texans -200
Spread Odds: Jaguars +4 (-110), Texans -4 (-110)
Over/Under Odds: 39.5 (-110)
Pick by the numbers: Jacksonville Jaguars ML, Jaguars +4, Over 39.5
---
Tennessee Titans vs Kansas City Chiefs Prediction
NFL Team Average Stats
Tennessee Titans (Record: 8-4-1)
Points Per Game: 24.7
Total Yards Per Game: 372.3
Passing Yards Per Game: 227.8
Rushing Yards Per Game: 144.5
Titans Away: 3-3, Chiefs Home: 5-1
Kansas City Chiefs (Record: 4-9)
Points Per Game: 23.2
Total Yards Per Game: 332.5
Passing Yards Per Game: 236.4
Rushing Yards Per Game: 96.2
Tennessee Titans vs Kansas City Chiefs Odds
Date: Sunday, December 18th, 2016
Time: 1pm EST
Venue: NRG Stadium, Houston, Texas
Official Twitter Hashtags: #TENvsKC
Moneyline Odds: Titans +190, Chiefs -275
Spread Odds: Titans +6 (-105), Chiefs -6 (-115)
Over/Under 42.5 (o -120, u -115)
Pick by the numbers: Tennessee Titans ML, Titans +6, Over 42.5
---
Indianapolis Colts vs Minnesota Vikings Prediction
NFL Team Average Stats
Indianapolis Colts (Record: 6-7)
Points Per Game: 25.2
Total Yards Per Game: 357.3
Passing Yards Per Game: 259.5
Rushing Yards Per Game: 97.8
Colts Away: 3-3, Vikings Home: 4-2
Minnesota Vikings (Record: 7-6)
Points Per Game: 19.8
Total Yards Per Game: 303
Passing Yards Per Game: 229.6
Rushing Yards Per Game: 73.4
Indianapolis Colts vs Minnesota Vikings Odds
Date: Sunday, December 18th, 2016
Time: 1pm EST
Venue: U.S. Bank Stadium, Minneapolis, Minnesota
Official Twitter Hashtags: #INDvsMIN
Moneyline Odds: Colts +180, Vikings -250
Spread Odds: Colts +5.5 (-115), Vikings -5.5 (-120)
Over/Under 44.5 (o -125, u -110)
Pick by the numbers: Indianapolis Colts ML, Colts +5.5, Over 44.5
---
Detroit Lions vs New York Giants Prediction
NFL Team Average Stats
Detroit Lions (Record: 9-4)
Points Per Game: 22.7
Total Yards Per Game: 336.2
Passing Yards Per Game: 252.5
Rushing Yards Per Game: 83.7
Lions Away: 3-3, Giants Home: 6-1
New York Giants (Record: 9-4)
Points Per Game: 19.6
Total Yards Per Game: 322.2
Passing Yards Per Game: 243.5
Rushing Yards Per Game: 78.7
Detroit Lions vs New York Giants Odds
Date: Sunday, December 18th, 2016
Time: 1pm EST
Venue: MetLife Stadium, East Rutherford, New Jersey
Official Twitter Hashtags: #DETvsNYG
Moneyline Odds: Lions +180, Giants -250
Spread Odds: Lions +5.5 (-120), Giants -5.5 (-115)
Over/Under 42.5 (-115)
Pick by the numbers: Detroit Lions ML, Lions +5.5, Under 42.5
---
New Orleans Saints vs Arizona Cardinals Prediction
NFL Team Average Stats
New Orleans Saints (Record: 5-8)
Points Per Game: 27.5
Total Yards Per Game: 418.3
Passing Yards Per Game: 313.9
Rushing Yards Per Game: 104.4
Saints Away: 2-4, Cardinals Home: 4-2-1
Arizona Cardinals (Record: 5-7-1)
Points Per Game: 23
Total Yards Per Game: 363.8
Passing Yards Per Game: 253.2
Rushing Yards Per Game: 110.6
New Orleans Saints vs Arizona Cardinals Odds
Date: Sunday, December 18th, 2016
Time: 4:05pm EST
Venue: University of Phoenix Stadium, Glendale, Arizona
Official Twitter Hashtags: #NOvsARI
Moneyline Odds:
Spread Odds: Saints +3 (-115), Cardinals -3 (-105)
Over/Under 49 (o -105, u -115)
Pick by the numbers: New Orleans Saints ML, Saints +3, Over 49
---
San Francisco 49ers vs Atlanta Falcons Prediction
NFL Team Average Stats
San Francisco 49ers (Record: 1-12)
Points Per Game: 19.3
Total Yards Per Game: 314
Passing Yards Per Game: 177.1
Rushing Yards Per Game: 136.9
49ers Away: 0-6, Falcons Home: 3-3
Atlanta Falcons (Record: 8-5)
Points Per Game: 32.9
Total Yards Per Game: 402.3
Passing Yards Per Game: 295.7
Rushing Yards Per Game: 106.6
San Francisco 49ers vs Atlanta Falcons Odds
Date: Sunday, December 18th, 2016
Time: 4:05pm EST
Venue: Georgia Dome, Atlanta, Georgia
Official Twitter Hashtags: #SFvsATL
Moneyline Odds:
Spread Odds: 49ers +14 (-110), Atlanta Falcons -14 (-110)
Over/Under: 51.5 (-110)
Pick by the numbers: Atlanta Falcons ML, 49ers +14, Over 51.5
---
New England Patriots vs Denver Broncos Prediction
NFL Team Average Stats
New England Patriots (Record: 11-2)
Points Per Game: 26.8
Total Yards Per Game: 395.8
Passing Yards Per Game: 280.3
Rushing Yards Per Game: 115.5
Patriots Away: 6-0, Broncos Home: 4-2
Denver Broncos (Record: 8-5)
Points Per Game: 22.8
Total Yards Per Game: 328.1
Passing Yards Per Game: 234.2
Rushing Yards Per Game: 93.8
New England Patriots vs Denver Broncos Odds
Date: Sunday, December 18th, 2016
Time: 4:25pm EST
Venue: Sports Authority Field, Denver, Colorado
Official Twitter Hashtags: #NEvsDEN
Moneyline Odds: Patriots -170, Broncos +150
Spread Odds: Patriots -3.5 (+105) , Broncos +3.5 (-125)
Over/Under: 43 (-110)
Pick by the numbers: New England Patriots ML, Patriots -3.5, Over 43
---
Oakland Raiders vs San Diego Chargers Prediction
NFL Team Average Stats
Oakland Raiders (Record: 10-3)
Points Per Game: 27.5
Total Yards Per Game: 380.3
Passing Yards Per Game: 264.2
Rushing Yards Per Game: 116.2
Raiders Away: 5-1, Chargers Home: 3-3
San Diego Chargers (Record: 5-8)
Points Per Game: 26.9
Total Yards Per Game: 360.8
Passing Yards Per Game: 262.8
Rushing Yards Per Game: 98
Oakland Raiders vs San Diego Chargers Odds
Date: Sunday, December 18th, 2016
Time: 4:25pm EST
Venue: Qualcomm Stadium, San Diego, California
Official Twitter Hashtags: #OAKvsSD
Moneyline Odds:
Spread Odds: Raiders -3 (EVEN), Chargers +3 (-120)
Over/Under: 50 (-110)
Pick by the numbers: Oakland Raiders ML, Chargers +3, Over 50
---
Tampa Bay Buccaneers vs Dallas Cowboys Prediction
NFL Team Average Stats
Tampa Bay Buccaneers (Record: 5-8)
Points Per Game: 22.5
Total Yards Per Game: 355.2
Passing Yards Per Game: 250.3
Rushing Yards Per Game: 104.8
Buccaneers Away: 0-6, Cowboys Home: 3-3
Dallas Cowboys (Record: 11-2)
Points Per Game: 26.2
Total Yards Per Game: 385.2
Passing Yards Per Game: 233.1
Rushing Yards Per Game: 152.2
Tampa Bay Buccaneers vs Dallas Cowboys Odds
Date: Sunday, December 18th, 2016
Time: 8:30pm EST
Venue: AT&T Stadium, Arlington, Texas
Official Twitter Hashtags: #TBvsDAL
Moneyline Odds: Buccaneers  +240, Cowboys -280
Spread Odds: Buccaneers +7 (-125), Cowboys -7 (+105)
Over/Under: 47.5 (-110)
Pick by the numbers: Dallas Cowboys ML, Buccaneers +7, Over 47.5