Dallas Cowboys vs Minnesota Vikings Results
Score: 17-15 Cowboys Victory
MrDeposit Bets On The Game
Dallas Cowboys -4 (-105): $10
Dallas Cowboys Moneyline (-170): $40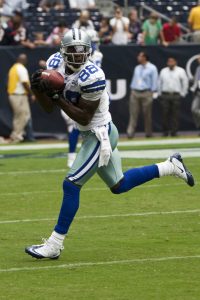 MrDeposit Thoughts On Dallas Cowboys vs Minnesota Vikings
Everyone that knows their football place a bet on the Dallas Cowboys. However, doing NFL betting against the spread can be a very tricky thing some games. My gut feeling was to bet the whole $50 on the moneyline because I just knew the cowboys was going to win the game.I also wanted the extra value from the odds of betting against the spread. So I thought about hedging my bet against the spread by betting the
I also wanted the extra value from the odds of betting against the spread. So I thought about hedging my bet against the spread by betting the moneyline. At first, I thought about putting $20 on the spread and $30 on the moneyline but the winnings wouldn't cover the loss of the spread.So I only bet $10 on the spread and $40 on the
So I only bet $10 on the spread and $40 on the moneyline. Hedging my bet was the smart thing to do over just putting the whole thing on the spread. Even though, had I followed my gut feeling I would have just bet the whole $50 on the cowboys.
Anyway, let's get into my thoughts on Dallas Cowboys vs Minnesota Vikings Results. Throughout this NFL game, the cowboys were making mistakes. Someone accustom to not watching the game when they place a bet decided to watch the game. They would probably be worried about their bet on Dallas. However, if you look at the whole of the game. You will see that even though Dallas were making mistakes, Minnesota wasn't taken advantage of the opportunities given to them.
At the end of the game, Vikings had one last chance to tie the football game. My thought on this is that Dallas would have still won the game. Most likely by a touchdown that would've won my bet against the spread. However, I lost my bet against the spread and won my moneyline bet on the Dallas Cowboys. So my sports betting bankroll is now $63.53 and we have lots of NFL games on Sunday. I will try to publish at least one article about my NFL picks before the games start.