I have 2, week 13 NFL betting picks for today. Each week I place a bet on every NFL game. However, today I was out for breakfast and miss my chance to place bets on the 1pm EST football games. So today I am just going to be selective on which games I bet on. I see great value in 2 games today; Buffalo Bills vs Oakland Raiders and New York Giants vs Pittsburgh Steelers.
Week 13 NFL Pick: Buffalo Bills vs Oakland Raiders
Stadium: Oakland Coliseum in Oakland, California
Date: Sunday, December 4th, 2016 4:05pm EST
Odds provided by Bovada
Spread: Bills +3.5 (-130), Raiders -3.5 (+110)
Moneyline: Buffalo +135, Oakland -155
Over/Under: 49 (-105o, -115u)
Bills at Raiders is a classic NFL game of defense vs offense. Raiders average almost 100 passing yards per game more than the Bills while the Buffalo average 50 more rushing yards than the Raiders. Overall Oakland averages more yards per game as well as football possession time.
Now when you look at defense, Bills are better in each and every way. However, something I found interesting was The Bills average 25 points per game while the raiders defense allows 25 points per game on average. Even with such a bad defense the should reach the standard 25 points and hit a wall after. I believe Oakland can not only push pass the 21 points Bills defense allows per game but push past 30 points to win the game.
Buffalo Bills at Oakland Raiders Pick: Raiders -3.5 (+110), I placed a $5 bet (5 units)
Week 13 NFL Pick: New York Giants vs Pittsburgh Steelers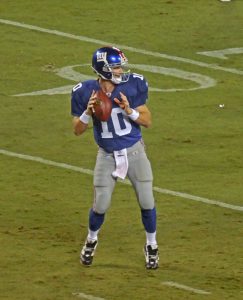 Stadium: Heinz Field in Pittsburgh, Pennsylvania
Date: Sunday, December 4th, 2016 4:25pm EST
Odds provided by Bovada
Spread: Giants +6 (+105), Steelers -6 (-125)
Moneyline: New York +230, Pittsburgh -270
Over/Under: 49.5 (-110)
Giants vs Steelers is my sleeper pick. Pittsburgh average more yards per game both in passing and rushing over the Giants. However, it's not by much. Going by the average points per game, this game would end 24-21 with Steelers winning. Which make sense if we place a bet Giants against the spread.
Now if we take a look at the defense New York allows 19 points per game, while Pittsburgh allows 20 points per game. This also shows that picking the Giants against the spread is not only the smart bet but also the safe bet. There is an off chance the Giants can win this game even that the Steelers secondary is pretty weak against the pass and the Giants are known for their passing game.
Even though the eye test shows us the Giants could beat the Steelers just by passing the ball. I just can't bring myself to bet on the moneyline for New York Giants. I prefer to follow the numbers. The stats show Pittsburgh Steelers is more likely to win the game, the numbers also show that the Giants will keep this game close. I have to go with the safe bet for some easy money.
New York Giants at Pittsburgh Steelers Pick: Giants +6 (+105), I placed a $5 bet (5 units)